Where to go Boating in Western North Carolina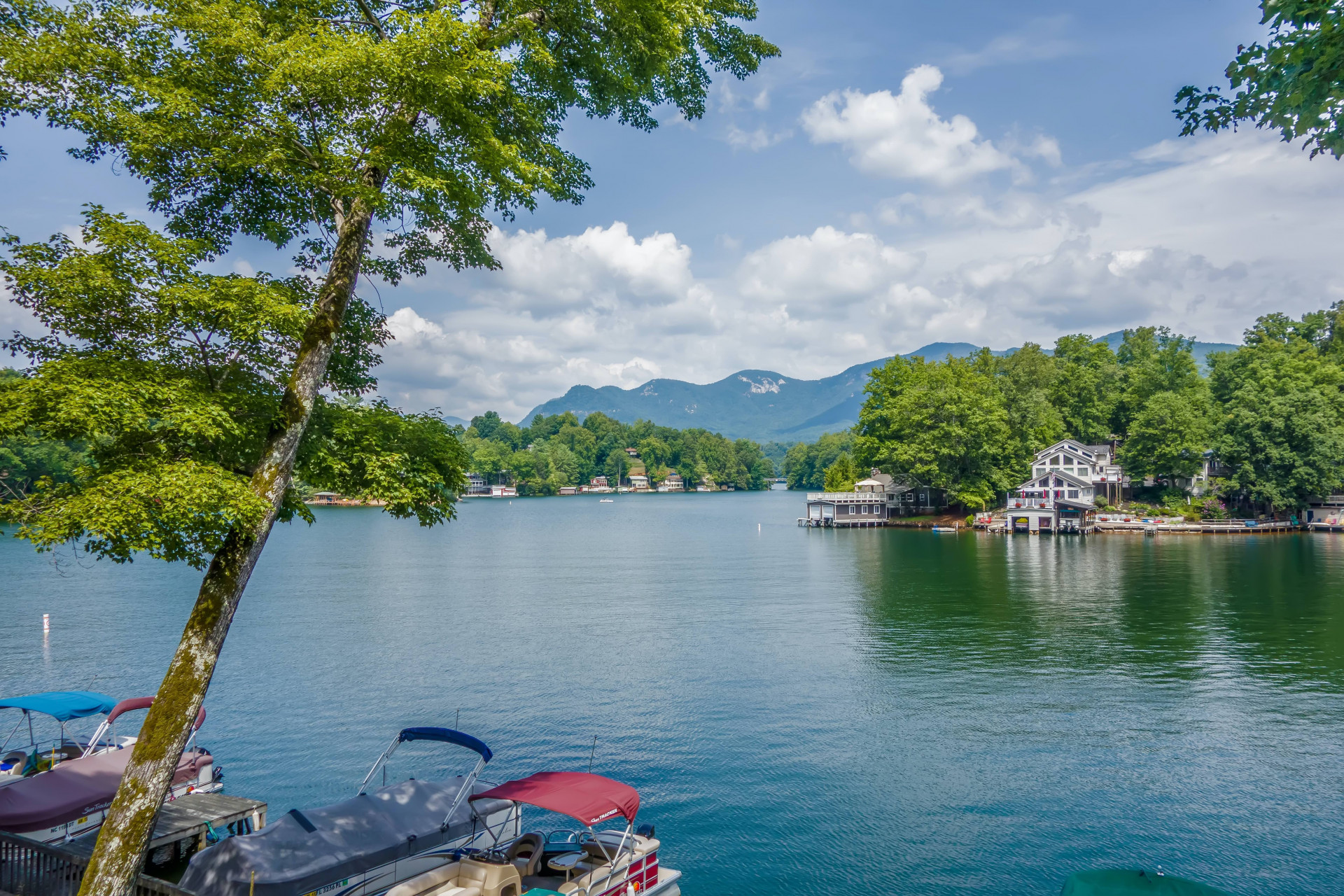 Here in Asheville, one of the most popular ways to spend a Saturday afternoon is floating the French Broad River. If you've lived in Asheville at least one summer, you've probably bought some floats at Walmart to do just that. Or maybe you've hired a tubing service to take care of it all for you. Unfortunately, the French Broad River is having a huge E. coli problem this summer; two-thirds of the sites tested did not meet the EPA's safe limit for E. coli.
In the interest of not contracting an infection from E. coli, it's time to find a new way to get on the water on Saturday afternoons. The solution? Renting a pontoon boat. I'm here to tell you that floating is out, and boating is in. I've rented a pontoon boat several times this summer, and it is a superior experience to floating down the French Broad. Say goodbye to sun poisoning and bruising yourself on rocks as you float! Just don't forget the Holy Trinity of Boating supplies: sunscreen, water, and a sunhat.
Below, I've broken down some of the best lakes to go boating on, and who to rent from.
Lake Lure | Lake Lure, NC
Captain Ed's Lake Lure Pontoon Rentals
Phone: 828-625-0073
Address: 111 Buckeye Rd.
Rental length: full day (9 a.m.-5 p.m.) or half-day (2:30 p.m.-6:30 p.m.) Call for rates.
Lake Lure is one of the prettiest lakes in Western North Carolina. (It's also a great place to watch the Fourth of July fireworks, in case you've already started making plans for next summer.) Having a boat to cruise around Lake Lure is basically the definition of an idyllic way to spend your Saturday. There are also several Airbnbs around Lake Lure, so you could also rent an Airbnb and make a whole thing out of it.
"We rented from Captain Ed for 3 days and he went above and beyond exceeding our expectations! Delivers to house and a great resource for all things Lake Lure. Thank you, Captain Ed! Amazing trip to the lake and we can't wait to return!" - TripAdvisor reviewer
Lake Lure Boat Rental
Phone: 828-817-4686 or 828-289-0315
Rental length: hourly, starting at $400 for 3 hours
Lake Lure Boat Rental is another option if you do end up renting an Airbnb. They are a delivery service, so you need to be ready at the waterfront or your Airbnb dock with all your stuff. They have no central location. You can also meet them at any public marina.
"Easy to work with. Timely and professional service. The boat was immaculate. Will definitely use again." - Google reviewer
Lake Fontana | Bryson City, N.C.
Almond Boat Rentals
Phone: 828-488-6423
Address: 1165 Almond Boat Park Rd.
Rental length: Full day (10 a.m.-5 p.m.) for $225+, or half day (9 a.m.-1 p.m. or 2 p.m.-6 p.m.) for $150+
Ahh yes, my favorite pontoon rental service. I've rented three pontoons from Almond Boat Rentals this summer, and I truly have nothing but good things to say. The owner and I are essentially on a first-name basis at this point. As an extra perk, Lake Fontana is filled with rope swings and rocks to jump off if you watch the shore closely.
"Amazing rates and very friendly staff!" - Google reviewer
Lake Santeetlah | Robbinsville, NC
Santeetlah Marina
Phone: 828-479-8180
Address: 1 Marina Dr.
Rental length: Starts at $285 for 4 hours
If you haven't been to Lake Santeetlah, it's a definite must before the summer is over. It's a beautiful, remote lake that isn't heavily trafficked, so you can get some needed R&R in before fall starts. There are also primitive campsites scattered around Lake Santeetlah that are first-come, first-serve. There is no fee to camp, so I would recommend snagging a lakeside campsite, renting a boat, and making it a weekend.
"The experience was fabulous and we look forward to renting a boat next summer." - Nicole E.