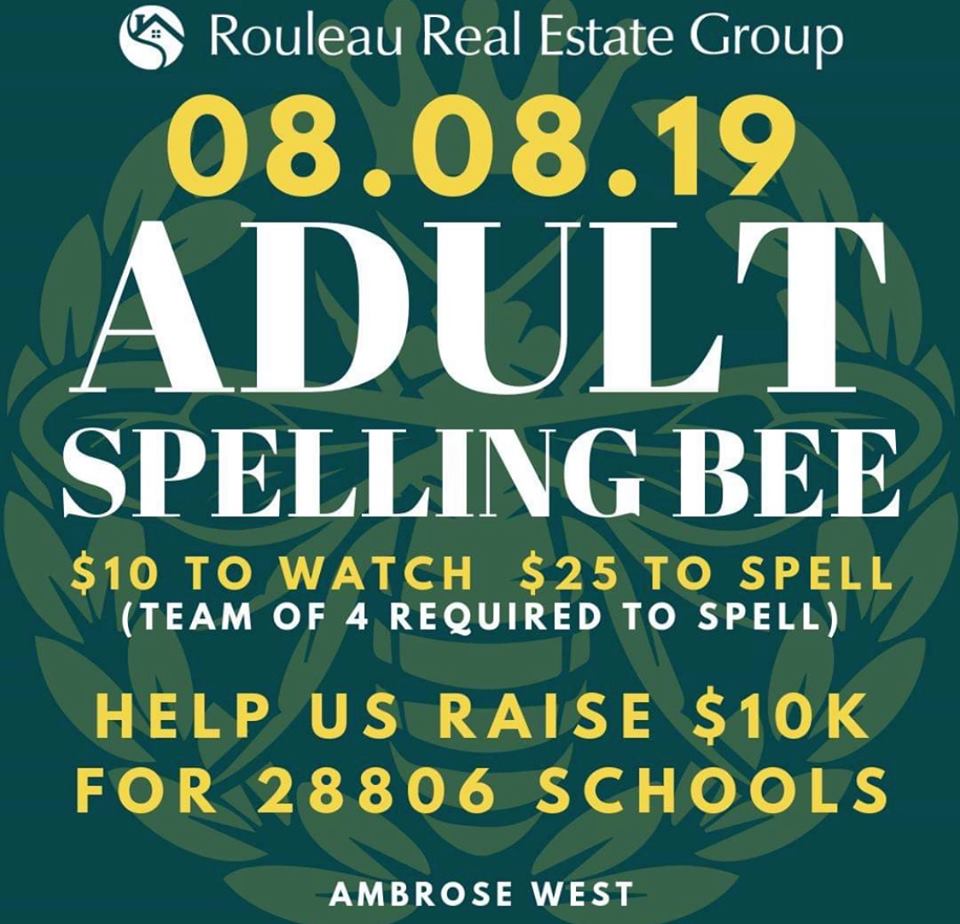 Crystallographer. Parveuism. Plumbiferous. Woebegoneness. Neutercane. Oryzivorous.
Could you spell these words correctly, in front of a televised audience of hundreds? The eight winners of the 2019 Scripps Spelling Bee could, and they were all under 14 years old. Crazy, right? (I don't think I'd spell any of those words correctly, and I majored in English in college and write for a living.)
But if you were fascinated by the Scripps Spelling Bee and think you have what it takes to win a spelling bee of your own, we have some great news for you: Rouleau Real Estate Group is hosting a spelling bee for grownups, and you are invited! Consider this your chance to redeem your middle school spelling bee loss, take home the trophy, and win bragging rights with all of your friends.
We're excited about this event for two reasons: first, it will be really fun, and second, we are donating the proceeds to West Asheville public schools. Two of our core values at Rouleau Real Estate Group are care and community. We believe in the importance of giving back, sharing our resources, and doing our part.
According to the Mountain Xpress, Buncombe County's current budget for fiscal year 2020 includes almost $3.5 million in additional education funding, while the total requests from Asheville City and Buncombe County Schools came out to roughly $8.16 million. If you crunch the numbers, that means there is a staggering $4+ million in lack of funding.
We want to help close that gap, at least in part, and there's no reason that we shouldn't have a little fun doing it!
Here are the details:
What: Not Your Kid's Spelling Bee Fundraiser When: 5-8 p.m., Thursday, August
Where: Ambrose West, 312 Haywood Rd.
How Much: $25 per person to participate; $10 per person to watch How To Purchase Tickets: online via Eventbrite
RSVP: on Eventbrite or Facebook

And because this spelling bee is for adults and not kids, consider this your warning: not all the words will be kid-friendly. After all, we're not in elementary school anymore.